Removals to Suffolk - Sudbury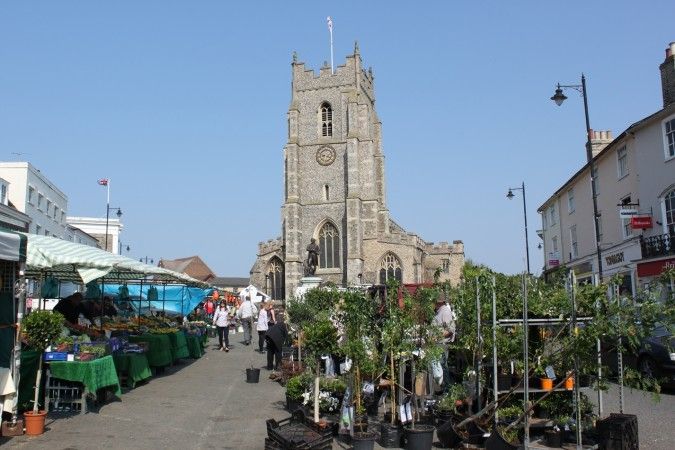 Sudbury is a small market town sitting just on the Suffolk side of the Suffolk/Essex border with a population of around 13,000. Sudbury is located on the River Stour 60 miles north-east of London and is known for its historic silk and textile production. Its natural beauty was famously captured by local painters Thomas Gainsborough and John Constable.
Greens is a trusted Chelmsford removal company who carries out regular removals in East Anglia, including to Sudbury which, at less than 29 miles, is less than an hour's drive away. Here is our guide to the beautiful town of Sudbury, a place with several claims to fame.
History
Evidence of a settlement at Sudbury dates back to the 8th century and its famous market was established in the early 11th century. Many of Sudbury's buildings and churches were funded by its textiles industries, which flourished in the Late Middle Ages.
The picturesque town was the birthplace of artist Thomas Gainsborough, and in the 18th century became notable for its locally-produced art. Gainsborough's landscapes inspired John Constable, another famed Suffolk painter from the surrounding Stour Valley area.
In slightly more recent times, during World War II, the US Airforce operated bombers out of RAF Sudbury. Several concrete gun turrets (or 'pillboxes') can still be seen at strategic positions along the River Stour around Sudbury and the surrounding area.
Transport Links
In the 19th century, a railway terminus was created at Sudbury, which opened up quick and easy access to Marks Tey in Essex and onwards to London Liverpool Street.
Sudbury has a reliable bus network within the town itself and bus services running to nearby Colchester, Ipswich and Bury St Edmunds.
Main Attractions
Sudbury is still very much a working market town with its twice-weekly market in the town centre that sells a range of local produce, including fresh fruit and vegetables, breads, meats, cheese, clothes and music. The market is set out in front of the impressive St Peters church, which is also a community meeting point for local concerts and exhibitions and the St Peters Choral Society.
Much-loved painter, Thomas Gainsborough's house has been preserved as a museum which is open to the public and has regular exhibitions which prove extremely popular with local residents and visiting tourists alike.
Sudbury's Quay Theatre is at the heart of local entertainment and provides a range of plays, films and talks by well-known actors and public figures throughout the year.
Since 2006, Sudbury is also home to the increasingly popular, charity-fundraising Leestock music festival, which has seen bands such as Toploader, Dodgy, D:Ream, The Lightning Seeds, Wheatus and Terrorvision play there.
Shops & Businesses
Sudbury offers a wide selection of shops, pubs and restaurants and popular North Street is generally considered the main high street, with the bulk of shops there. You may even have noticed some of Sudbury's picturesque streets on various TV programmes and films –examples include TV's 'Lovejoy' and Disney's live-action adaption of '101 Dalmatians'!
Greens carries out professional removals in East Anglia, including Sudbury, Braintree, Halstead and every corner of Essex, Suffolk, Cambridgeshire and East Anglia. We also have branches in Brentwood, Ipswich, London, Felixstowe, Colchester, Cambridge, Newmarket and Norwich.
Greens is a trusted Chelmsford removal company and has a wealth of local knowledge. If you are planning a domestic or commercial move or would like to know more about our services and receive a free, no-obligation quote for a move get in touch with us today.