Removals to Essex – Feering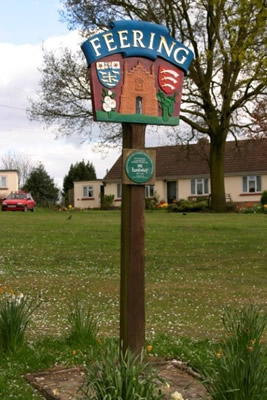 Feering is one of the most attractive places in Essex to move to. The village enjoys excellent transport links with the rest of the county, while still retaining its rural charm and community spirit.
Greens, a leading domestic removal company based in nearby Chelmsford, help with moves to all parts of the county. We have compiled this background information about the village if you are thinking of moving there.
The Heritage of Feering
We know that Feering dates back as far as the 11th Century, because it is mentioned in the Domesday Book.  However, there is evidence to suggest that settlement on the site may go back even further than that, as Stone and Iron Age artefacts have been found in the area and there is also some evidence of Roman occupation.
Historically the parish has always been important for local agriculture. Strawberries and raspberries were grown locally for a nearby jam-maker, while the village was also home to fields of flowers, giving rise to the local nickname 'The Flowering Fields of Feering'.
Nowadays some of the best floral displays are to be found at Feeringbury Manor. This 10-acre garden in the grounds of a 14th century country house is open by prior arrangement with the owners. Depending on the time of year, you could enjoy stunning apple blossom, clematis, peonies, oriental poppies and many different types of daisies.
Transport Links
Feeing has a been an important strategic location because of its crossing point over the River Blackwater, while the Roman London to Colchester road used to run through Feering Hill. These days the modern equivalent, the A12, connects the village with the rest of Essex and East Anglia as well as the capital.
The village has regular bus services to Chelmsford and Colchester, and less frequent ones to Tollesbury and Witham. The nearest railway station is at Kelvedon, just over a mile from the village centre, and offers services to Ipswich, Colchester and London Liverpool Street.
Clubs and Societies
Feering shares a number of groups with nearby Kelvedon, including a gardening club, an art society and a cricket club. This runs a senior team in the Two Counties Championship as well as junior and ladies' sides from its base in Rye Mill Lane.
The Community Association building in Coggeshall Road is the centre of village life for many. It is hired out by many local groups, including a Mums and Toddlers Group, carpet bowls and badminton players, and the local Women's Institute. The village even has its own film club which also meets here.  
Businesses
Threshelfords Business Park, between Kelvedon and Feering, is home to a number of small businesses, while the village has not one but three pubs – The Sun Inn, The Bell Inn and The Blue Anchor.
Prested Hall Hotel, a 14th century country house built for the Weston family, lies to the east of the village, the other side of the A12, in 75 acres of parkland. It has now been converted into a hotel and health spa which is also being used as an exclusive wedding venue.
The Church and the School
Feering's parish church, All Saints, is an English Heritage Grade I listed building, parts of which date back to the 13th century. For many people, it is the focal point of the entire village. It houses for many fine wood and stone carvings, and a copy of an altarpiece by John Constable entitled The Risen Christ. The village also has another church, Feering Mission, which currently meets at the Drummonds Scope Home in Little Tey Road.
Feering Primary School, in Coggeshall Road, has more than 160 pupils aged from 4-11.  It enjoys close links with both churches, and particularly All Saints, with pupils attending special services for Easter, Mothering Sunday and just before Christmas.
Greens – A Domestic Removal Company from Chelmsford
Domestic removals company Greens is based in Chelmsford and can help you with your move to all parts of the county. We have helped people with removals to Clacton-on-Sea, Colchester, Brentwood and Brightlingsea.
We can put together a competitively-priced package which is tailor-made to your individual needs, whether you are moving for domestic or corporate reasons. To find out more, follow this link.